Book Review: "The Shade of the Moon (The Last Survivors #4)," by Susan Beth Pfeffer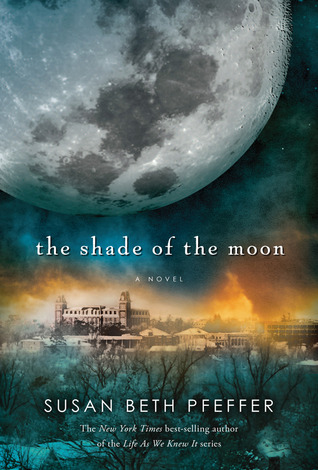 I started this series because a student had recommended the books to me – he even brought the first one for me to read.  I enjoyed the series and thought it was simply a trilogy.  While the third book left me with some questions, I accepted it as the finale – and then discovered there was a 4th book.  While my student warned me to not read the book…I didn't listen.
The novel (published 3 years after the third book) takes place 4 years since the catastrophic event that has left the earth completely changed.  The characters we met in books 1-3 have now settled in an area of Tennessee. Jon, the younger brother featured in the first and third books, lives with his stepmom and half-brother in a safe enclave, where they are given all they want, with servants to wait on them.  Jon's family (his sister Miranda, the narrator from books 1 and 3; her husband Alex, the narrator from book 2; and their mother Laura) lives in the "grubtown" White Birch a 20 minute bus ride, away, although the way they live makes it seem much farther.
I won't go much into the details of this book, because I was simply not a fan.  I really, really liked the first novel, "Life As We Knew It," and it really stuck with me, but I have liked each book in the series less than the previous book.  Although the action in this book is to take place only 2 years following the previous novel, I felt as though much more time had passed.  I was not a fan of Jon in the previous novels – and he was truly a minor character throughout those books.  This book made me wish that either or Miranda or Alex would have been the narrator again – although I know why Pfeffer decided to change things.  To me, Jon is not likable and I don't see him as changing or growing much throughout the novel.
This series started out with such promise, but ended with a fizzle.
Book Review "The Shade of the Moon," by Susan Beth Pfeffer: 2/5 stars